What: Aerosmith
Where: O2 Arena, London
When: Tuesday 15th June 2010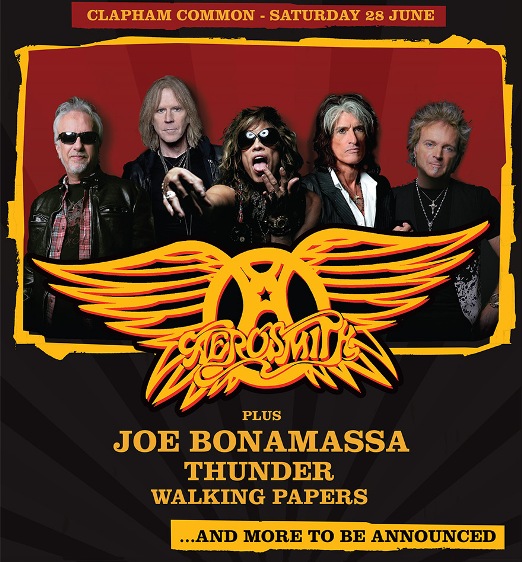 When I posted on my facebook page that I was going to photograph Aerosmith I made a glib comment pondering if I should take my normal fast lens or time lapse photography kit. Tonight I am pleased to say I was left eating my words. Despite their advancing years Aerosmith still know how to rock and Steven Tyler as the troubled front man was seemingly as flexible as ever.
Any band that's been going for as long as Aerosmith is going to face a dilemma when putting together a set-list. There will be the hard core fans who want to see the rare tracks combined with the casual fan (a category I fall into) who would prefer a greatest hits tour. I felt Aerosmith got this balance just right. They started off with a hit and made sure others were interspersed along the way to ensure that the majority of the audience didn't feel left out. The crowd were treated to great versions of "Pink", "Love in an elevator" and the inevitable wedding song "I don't want to miss a thing"
The O2 wasn't quite full tonight which surprised me. This was only one of two UK dates in their European tour and the other was this weekends' Download festival. It's likely that the £100+ standing ticket prices didn't help in that respect. I am sure that even at those prices the majority of the audience went home happy and feeling like it was good value. This could very possibly be Aerosmith's last ever tour and I for one am very glad that I got to see such Rock Icons. Towards the end of 2009 it looked like either Tyler or Perry wouldn't be with Aerosmith if they did tour so it was great that both of them were together for this gig.
Aerosmith's stage had a fairly long catwalk extending into the audience. Tyler made full use of this and at times it almost seemed like he was happy to be playing Aerosmith songs but a long way away from the rest of the band. Despite Tyler and Perry's very vocal fall outs they made a good job of looking like they enjoyed being together on stage when they got near enough to each other.
The two hour set seemed to fly by and no sooner had it started than we were all singing along to "walk this way" as the eleven o clock O2 curfew passed by. Aerosmith may be old but they certainly put on a great rock and roll gig.
I was disappointed in only one thing and that was getting refused access to the pit for the photographs. Instead I had to make do with my pocket camera for this gig. The one advantage this gave was that I wasn't limited to the first three songs only. Despite the access restrictions I am still happy with the photos I got from the gig. If it turns out to be their last on UK soil I'll have some good memories and some photos to prompt them for years to come.